Disclaimer – this post is part of a serie: I, II (this one), III, IV and V.
Find below the statistics for mailinglist activity in GRASS, gvSIG and QGIS during the period 2008-2010. The first one shows data from the general user mailinglists for each project. Take into account that data for gvSIG agregated both international and spanish mailinglist due the reasons stated here.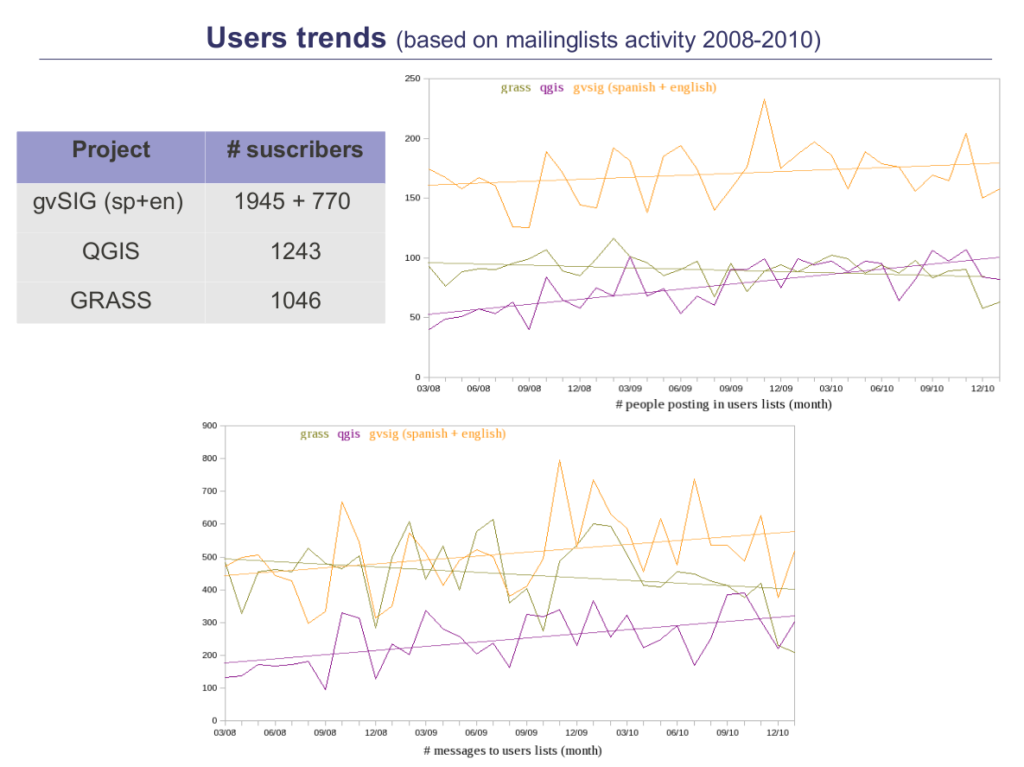 The next one shows the same data (number of people writing and number of messages by month) for the developers mailinglists.

Is it something we could extrapolate from the data there?
Well, certainly not the user base. The data shyly introduce us the trends, not the real user base. The model we adopted to study the projects reflects just a part of the community -which is arguably the engine of project- but don't take the data as the number of users for each project. For sure, each one of our favorite projects has more users than those participating in (these) mailinglists!
Anyway, here some food for thought:
GRASS: it smoothly decreases in terms of number of messages as well as people writing, which happen within users and developers. The tendency is not clear though.
gvSIG: the data shows a steadly increasing number of users participating in the mailinglists. On the other hand, although it is the project with more people suscribed to developer mailinglist, it shows the less activity of the three projects (in terms of # of messages in developer lists): few technical conversations seemed to happen through the mailinglists during that period.
QGIS: according to the data, a clear growth exists in the community. In the period in study (3 years) the number of users and developers participating in mailinglists has been doubled!
Few more can be said, hope the graphics are explicative enough! Looking forward to your feedback.