In November 2016, I switched from QWERTY to Dvorak. The past year, the change wasn't noticeable yet, so I was hoping this year would.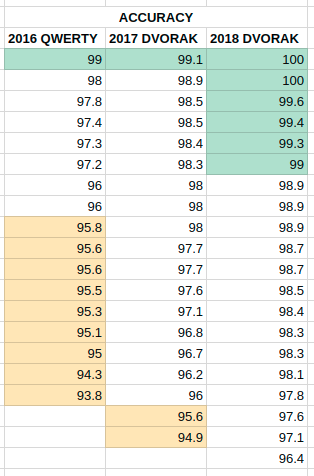 This is the completely unscientific test I run: I visit TypeRacer and record races – I'm going to settle at 20 from now on. The texts aren't the same from year to year, I just trust the random nature of TypeRacer to give me different kind of them: short, large, with tons of punctuation, with very few breaks, and so on.
It looks like I've already surpassed my previous baseline after two years using Dvorak – both in terms of speed and accuracy. I had been using QWERTY for about 15 years before switching, so that's impressive. I guess I'm able to introduce bugs in my code faster!
In a more qualitative note, 2018 has been a year of consolidation. Unlike in 2017, I haven't changed my input devices and my keyboard configuration has remained the same – that has probably helped my muscle memory to develop faster. I still don't have a steady rhythm and there are some characters I struggle to type. The accuracy results are more meaningful to me than the speed, as that speaks about my finger health long-term, which was the main reason I was interested to give Dvorak a try.